A trustworthy company to avail high quality Aluminium Heat Sink, Aluminum Extruded Heat Sink, Heat Sink Enclosure Box, Instrumental Handles, etc., from...
About Us
Jyoti Heatsinks Pvt. Ltd. has been in the market since 1999 and with such a wide experience, have come really far. Today, the company is deemed a reliable manufacturer of Circular Heat Sink, Oil Pipes For Engines, Aluminium Heat Sink, Aluminum Extruded Heat Sink, Electronic Enclosures And Front Panel Boards and more products of unbeatable quality. Moreover, it is because of the quality of all these and other products that we have been accredited with ISO 9001:2008 Certification. We are loved by our customers because of our work culture. By following a systematic work approach, we have been completing our projects on time efficiently, without leaving behind any chances of error occurrence. With gained exposure and business experience, we expanded and began operating as an exporter also. By exporting a large percentage of our offerings overseas, we have attained a reputed position in the International market.
Customer Satisfaction
We believe that gaining customers trust is difficult, but retaining them is even harder. To satisfy all the needs of customers and maintain our strong foothold in the market, we persistently work day and night. The quality supervisors of our company are capable enough to not only maintain the product quality, but also manage other on-going processes as well. Services they handle include-
Customer service
Prompt delivery
Order tracking
Query response, etc.
Apart from this, we offer flexible payment options to ease the monetary transactions of our customers.
Our Employees
We consider our employees as the backbone of our company because we believe in the fact that great businesses begin with great employees. And, the greatness of our employees is evident from the efforts they put in completing our projects on time. Thirty five in number, our employees work in close coordination with each other to offer the best-in-class range of Aluminium Heat Sink, Aluminum Extruded Heat Sink, Aluminum Extrusion Heat Sink Enclosure, Mild Steel Handle, etc. Since our employees do a lot for us and our customers, we also conduct training sessions for them on regular interval for polishing their skills and making them aware about the prevailing market trends. These training sessions help them grow on both personal and professional levels.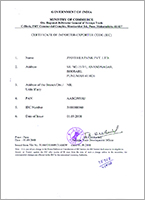 Most Popular Products
Plot No J-22, MIDC, Bhosari - 411026, Maharashtra, India
Phone : 91--9607500775
Mr B. D. Gunjal (Director )
Mobile : +919822076732, +919607500775